Electric vehicle fleet and lease companies are bracing for an explosion in demand after the government clinched a crossbench Senate deal to exempt low-and zero emission cars from fringe benefits tax. This has the potential tax breaks for EV drivers, saving buyers more than $30,000.
The Greens and independent Senator David Pocock backed the Labor EV tax break after negotiating to allow the scheme to include plug-in electric and internal combustion engine hybrids until April 1, 2025.
Treasurer Jim Chalmers said the deal, which is now guaranteed to pass through the Senate before parliament rises next week, would make electric vehicles more affordable for households and businesses.
"These changes are a win for motorists, a win for businesses and a win for climate action."
The FBT exemption would mean a customer with a gross income of $95,000 using a 36-month novated lease through their employer to purchase a 2022 Tesla model Y would see their take-home pay reduced by $1364 a month, compared to $1863 under the current rules, according to InsideEDGE.
Over the course of the lease, the total saving to the buyer would be $29,451 compared to a standard car loan.
The measure is part of Labor's broader plan to boost EV adoption rates in Australia, which are among the lowest in the developed world. By boosting demand for relatively costly EVs, the government hopes it will also bring forward supply of the vehicles to the second-hand car market to open access to lower income households.
The fringe benefit tax exemption will apply to vehicles purchased since July 1 and which fall short of the Commonwealth's luxury car tax threshold, which is set in 2022-23 for fuel-efficient vehicles at $84,916.
Labor originally sought to include plug-in hybrids, but the Greens and Senator Pocock demanded the government avoid any measures that support "legacy fossil fuel technologies".
"My position is that plug-in hybrids are a fossil fuel technology that should not be subsidised by taxpayers in this bill," Senator Pocock said.
"This bill provides tax incentive to mostly wealthier Australians through fleet vehicles, which will create a much-needed second-hand EV market in a few years time."
Greens leader Adam Bandt joined Senator Pocock in claiming credit for the temporary inclusion of plug-in hybrids over calls from some in the motoring industry that urged the government to be technology-agnostic.
"By limiting handouts to petrol cars and accelerating support for electric vehicles, the Greens in balance of power have pushed the government to go further and faster on climate," Mr Bandt said.
Employers are the other big winner from the changes, which will remove the FBT liability on company-owned electric vehicles provided as part of a salary package for personal use by employees.
Novated Lease scenario table below: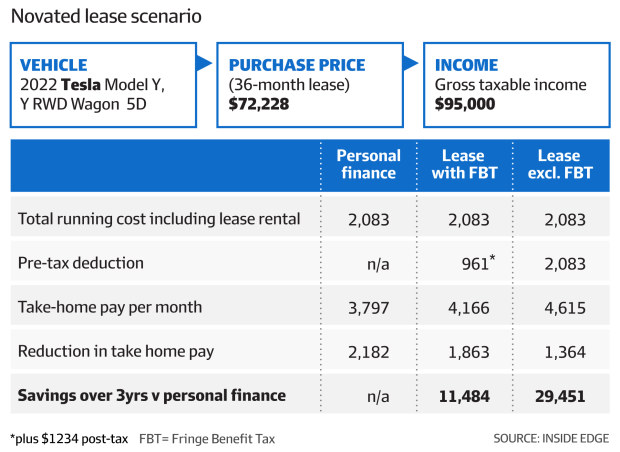 Under that example, a Tesla valued at $64,000 currently results in a company FBT charge of around $12,500, according to Treasury calculations.
Australian Fleet Management Association executive director Mace Hartley said the FBT exemption would be an unprecedented change to the industry that will lead to a surge in buyer interest.
However, he said it needs to be combined with other regulatory incentives, including a proposed emissions standard to encourage manufacturers to ship more EVs into the Australian market.
"With demand about to go ballistic, the lack of a fuel efficiency standard is going to see Chinese product dominate the Australian landscape," Mr Hartley said.
InsideEDGE weigh into the discussion.
Andrew Kerr, director of sales and marketing at Inside Edge, a novated leasing firm, said that even though details around home charger installation are still to be clarified, the Senate deal will deliver savings to both employers and employees.
"It has become abundantly clear that the purchase of an EV and PHEV [plug-in hybrid electric vehicle] just got a whole lot better," Mr Kerr said.
"It will also create a secondary market as cars are rolled off leases in one, two and three-year leases, answering the question as to affordable second-hand electric vehicles in the coming years."